I just bought a new Spykee robot from Erector.  It's an amazing little robot so far, I'm really impressed with it.  I'm working on several modifications already.  In case you're wondering, this is what it looks like.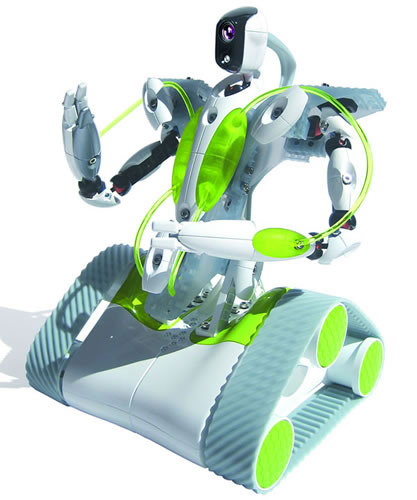 It has several features that I was interested in when looking to purchase it.  Spykee is capable of both video and picture capture.  It has integrated WiFi and can operate in adhoc, local access point and remote modes, meaning you can control it directly with a PC that has wireless capabilities or from any computer connected to the internet, both local and remote.  The video stream is very fluid, even when using the remote functionality.
Spykee can also be used as a VoIP communication device.  When you activate the internal microphoneof Spykee, it will pick up and relay audio between your PC and the remote location.  The audio quality is very clear with minimal lag.  I have heard cell phone conversations that were far worse quality.
There are also several minor features like light effects, sound effects, video effects and some interesting custom audio features.  You can drag custom 100KB mp3 files onto two custom buttons and play them through the Spykee.  This led to me getting remote rickrolled repeatedly after giving out a guest account to a fellow technology enthusiast.
It is possible to create multiple accounts for access to your robot, but unfortunately, only one person can control the robot at a time.  The robot and software are supposedly open source and they will be releasing a full SDK and source in the near future, so I'm sure someone will work around this limitation if they haven't already done so.
I have a few modifications planned almost immediately.  I have found that the bot tends to flip backwards fairly easily, both when running into objects and when transitioning from hard floor to carpet.  I want to add a self-righting mechanism to the back of the bot.  I would also like to add a way to pan/tilt or just tilt the camera.  Currently it is stationary and isn't always at the best angle for navigation.  I also want to take it apart and beef up the battery.  Currently, it seems to last about 60 minutes on a full charge which takes about 3.5 hours.
Unfortunately, the arms are currently just for show.  However, I'm sure someone will come up with a working arm mod for it at some point.  I will post again once I start working on modifications for the bot.
UPDATE: I took a quick video tour of my house with the bot and uploaded to YouTube.