It's a complete bitch to get the arbors straight when you're assembling gear trains made out of wood.  I think I did pretty well really.  Today I stained all the pieces that will be stained, primarily the gear train, and then assembled most of the gears on their arbors.
Here I have applied a nice dark mahogany stain.  One coat seems to be plenty to get a rich, dark color to the wood.  It should be a really nice contrast to the natural wood frame.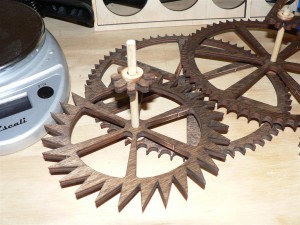 Here is the escapement wheel and great wheel.  You can already see the contrast I was talking about from the arbors and gears.  Looks great!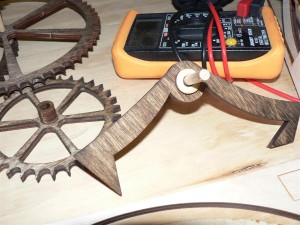 Here's the minute wheel with the minute pipe, the escape lever and half of the mid wheel.  Also, a cheap multimeter.  My woodworking bench is also used for electronics work.  Or maybe my electronics bench is used for woodworking, I'm not really sure.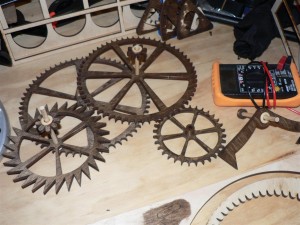 All of the gears with their various arbors and whatnot.  I should be able to start assembling everything onto the great wheel arbor tomorrow.  Look for another post in a day or two.  The weekend at the latest.