I have decided to try building a laser cutter rather than making a huge commitment to purchase one.  I have been following the blog of a gentleman in Chicago recently who is building one from the ground up and his blog is exceptionally detailed.  You can find the blog at buildlog.net.  His work on this project is phenomenal and I really hope to emulate and build off his work to build my own.
I just ordered all the frame pieces, brackets and fasteners from Misumi as well as the v-groove rails, wheels and bearings from a few other vendors.  I also worked up some initial sketches in SketchUp to figure out all the lengths and stuff since most of bdring's work is in inches and Misumi uses metric for all their lengths.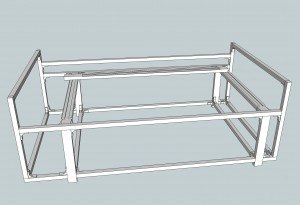 I plan on documenting the full build as well as any issues/customizations I make.  I am really looking forward to working on this, it is something I have wanted to do for some time now.